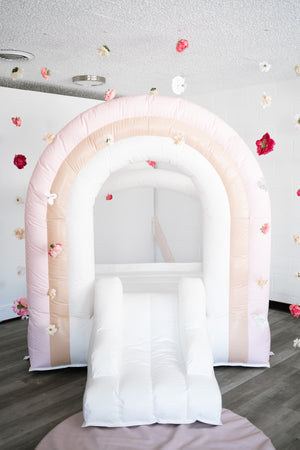 Pink Rainbow Backyard/Indoor Bounce House 
(PINK + BEIGE)
MINI SHERBET 6X6 AND 8X8 ARE IN-STOCK AND SHIPPING IN THE ORDER PLACED, WITHIN 3 BUSINESS DAYS, EXCLUDING HOLIDAYS. 
FOR EXPEDITED PROCESSING REQUESTS, PLEASE MAKE SURE YOU INCLUDE THE ADD-ON WITH YOUR PURCHASE AND REACH OUT TO HELLO@MINICASTLES.CO TO CONFIRM.

Mini Castles Co is not responsible for carrier issues during the shipping process. Please purchase shipping insurance through Navidum to ensure your shipment is protected from theft and damages.
Colors shown in pictures and advertisements may appear lighter due to setting and lighting, than in-person. Please inquire about about raw images prior to purchasing..
Manuals:
Size 6 x 6 x 7 FT (including slide entrance, 8 FT x 6 FT x 7 FT)
Size 8 x 8 x 7.5 FT (including slide entrance, 11 FT x 8 FT x 7.5 FT)
Material: All white interior is commercial-grade Tarpaulin PVC, brown/beige rainbow detail is also commercial-grade Tarpaulin PVC
Age Limit: 2-8 (Parental Supervision Required); recommended that only kids of the same age use the bounce house at the same time
Comes with:
1 White Vinyl Bag
1 Blower
6 Stakes
1 Repair Kit
4 PVC Sandbags (unfilled)
1 User Manual
 ALL SALES ARE FINAL. NO CANCEL ORDERS.
Products are handmade and may come with minor imperfections, such as uncut stitch ends which are a part of the production process and do not pose an issue to regular use of the bounce house. As product is going through an extensive shipping process, it may come with minor scuffs and/or yellow patch stains; follow manual instructions for proper cleaning. Send us an email to hello@minicastles.co for cleaning tips and recommended products. This product requires a blower to be on at all times during use. Air leakage is normal and may be audible - sometimes in one area more than another. If product comes with damage that hinders regular use, contact us WITHIN 10 DAYS of delivery. If we approve an exchange or return (for store credit only), you will have one week to ship the product back to us.
IF PURCHASING FROM A COUNTRY OTHER THAN THE UNITED STATES, THEN YOU WILL NEED A VOLTAGE CONVERTER IN ORDER TO USE THE BLOWER SAFELY. PLEASE EMAIL US FOR MORE INFORMATION.
Product intended for personal, household use. Operator certification needed for commercial use.
 Image is for promotional purposes and not to be used as a guide for set-up. Please read our post titled "How To Set-Up Your Bounce House Indoors", for details.